Finnish Shared Network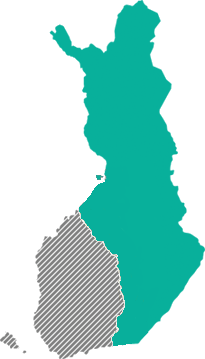 The Finnish Shared Network is a shared network company founded in 2014 by DNA Oyj and Telia Finland Oyj to design, implement and maintain a mobile network in Northern and Eastern Finland.
The Finnish Shared Network aims to offer residents of Northern and Eastern Finland:
Improved coverage for mobile broadband and calls
Improved broadband throughput speed and service level
More comprehensive, high-quality and faster data communications, even in sparsely populated areas.
Thanks to the cooperation between DNA and Telia, the Finnish Shared Network is able to use and offer various benefits:
More base stations – all the good base station locations in the Shared Network area are available for both Telia and DNA customers
Larger spectrum capacity – the spectrum assets of DNA and Telia have been combined in the Shared Network area without leftover pieces between operators
The cooperation has made the development of the mobile network faster and more cost-efficient – delivering the services of DNA and Telia faster throughout Finland.
The Finnish Shared Network Ltd is not a telecommunications operator and it does not offer subscriptions or customer service. Its only direct customers are Telia and DNA, which utilise the mobile network when offering their services to their customers. Our activities have no direct impact on DNA or Telia private or business subscriptions. All subscribers deal with either DNA or Telia directly in all matters relating to their service package.